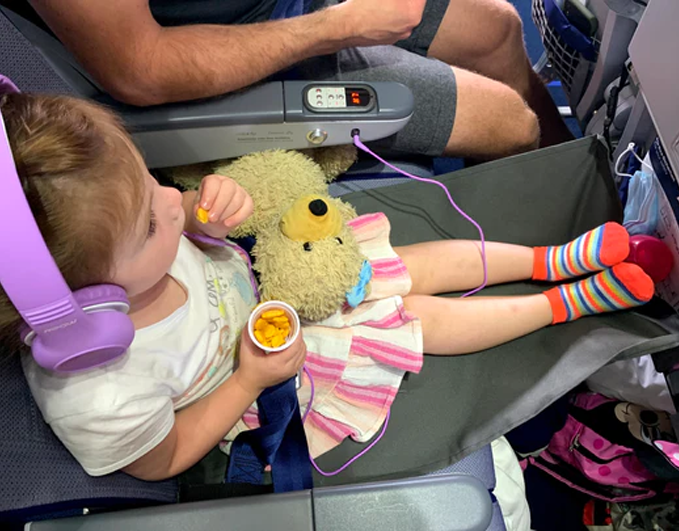 Welcome
If you've ever traveled on a plane with a child, you know that it's not always smooth sailing! Toys and snacks drop to the floor and between the seats, kids struggle to get comfortable on those long haul flights, and all you hope for is a moment of rest after hours of trying to keep them comfortable! If this sounds familiar, say hello to the Air Cot :-)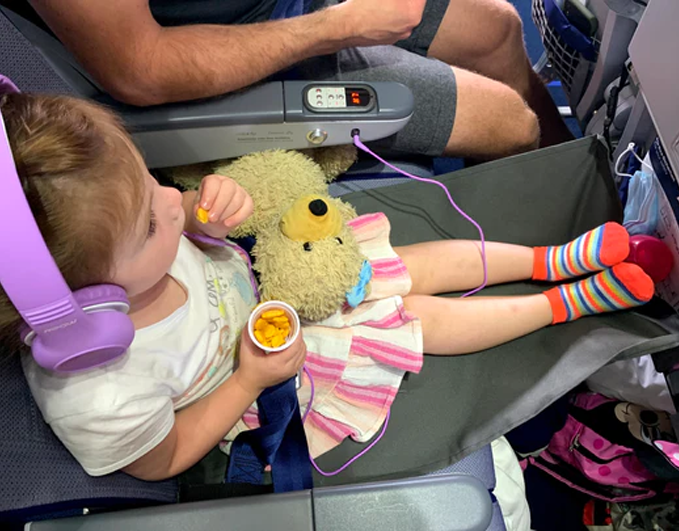 The Air Cot seat extender was designed by an expat mom who had struggled through these flights and after adding a second child to the mix, knew there had to be a better way. This seat extender is perfect for young children seeking some extra comfort while traveling. It acts like a hammock, allowing them to stretch their legs and relax. Content kiddos make happy moms and dads!
Our Products
Discover our exceptional products with unique features and high-quality craftsmanship. Explore our collection today!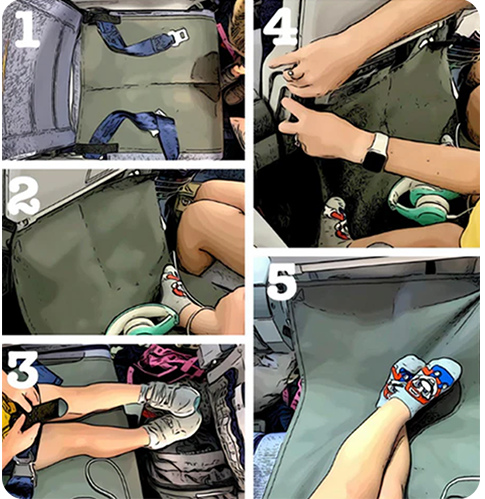 Keep the Air Cot unclipped at the tray table until the pilot turns off the seat belt sign. Comply with crew's request that you stow all carry on items.
1. Lay the Air Cot flat on the seat with the two loops facing up, thread the seat belt through the loops, and fasten the belt around the child.
2. Open tray table and loop longer strap around the base. Fold the tray table up, ensuring buckles aren't pinched in the tray and adjust length as needed.
3. Unclip both buckles so the Air Cot hangs down until the seat belt sign is turned off.
4. When the seat belt sign is off, fasten the buckles.
5. Do as the crew says....sit back, relax, and enjoy your flight!
Read More

Love this seat extender we received for my little girl! So comfy and added so much extra space for her to play! Thank you Air Cot!
Olivia Lozeau
Air Cot - seat extender for kids

Wish I'd know about this for my first little. It's an easy to install. And great for resting or extending the playing surface in flights. Thanks!
Amy Harris
Air Cot - seat extender for kids

I loved it and so did my kids, they slept the whole flight, but on airfrance they kid of gave me a headache which was annoying.
Kate Brown
Air Cot - seat extender for kids

I knew it would be a close call to get the extended in time for our trip. I messaged the company and they made sure it arrived on time! My toddler loved having his feet up!
Jaclyn Tapia
Air Cot - seat extender for kids
Choosing a selection results in a full page refresh.